Neljäs sukupolvi - Suomalainen rock nyt
[Fourth Generation - Finnish Rock Now] by Tero Alanko and Petri Silas. The book is from 2006, and it contains the interviews of twenty young Finnish musicians, one of them of course being Ville Valo. Below the cut is my translation of the chapter about Ville.
VILLE VALO
(The interviews for this article were conducted in January 2006.)
It's hard to say what my first own memory is because everyone hears stories about their childhood from their parents.
I do, however, have one genuine rock 'n' roll-related early memory. We were visiting family friends whose son was a fan of Iron Maiden. I opened the door to his room, and in the dark room there was a gigantic Eddie the Head that was staring at me! Because I was three or four, I got incredibly scared. It took many years before I had the courage to talk to that guy. Later on I did however become I big fan of Maiden.
My dad is good at drawing caricatures and cartoon-like things. But when he went to school in the 1950s, you had to draw a barn that looked like a barn, like the ones in Juhani Palmu's paintings, so he quit drawing—especially since some artist that visited his school had completely dissed his work. But he kept his love for comics, and he acquainted me at a very young age with Mandrake the Magician, The Phantom and his other favorites. My dad carried home comics from second-hand bookstores, and I liked La Belette by Comès and Inspector Canardo. I also have all those big books from the
Minä Aku Ankka
[I, Donald Duck] series by Carl Barks.
I have always liked drawing myself, and that saved me in elementary school. Since I had trouble concentrating, I was given special permission to draw during classes. Otherwise I wouldn't have staid still. When I was on first grade, I was even taken to the doctor's for an EEG, but that didn't work out. I should have kept my eyes closed without blinking during the examination. That wasn't going to happen.
I wasn't interested in school at all, and I have later thought that the essential function of school is to help people form social networks. You meet different kinds of people there and learn your own place. There you find out for whom the door is opened and for whom it isn't. These things are for me more important than something like learning to spell by syllables. Spelling by syllables is after all a technical detail. Learning to do that doesn't guarantee that later in life you will ever read a good book or write a good letter.
Many of my childhood friends moved away at some point, and now my oldest friends are Mige and Linde. Mige I met when I was nine years old and Linde, if I recall correctly, when I was ten. In all relationships there are cooler periods so I don't know if a long friendship is a strength in itself, but it's of course more fun to tour the world when you have good friends around you... It's true that when it comes to the band stuff, Mige and I are thick as thieves.
As a kid I liked being indoors as much as outdoors. I had a friend with whom we built all kinds of stuff with Meccano, but I also loved riding my bike and skateboarding. Before those, I even tried playing soccer. There's a sad story about that. I was trying out for a team called Gnistan, so my mom and dad dropped me off at their practice in the nearby neighborhood of Paloheinä. When they came to pick me up, they found me up in a tree and some boy with a bloody face crying under it. I had gotten pissed off because the dude had taken my ball. And so I had punched him in the face. This is not what you're supposed to do in soccer. My parents figured that team sports weren't really my thing. So I moved on to judo.
I also loved cross-country skiing – after a few gym teachers had first given me a kick in the ass and taught me the technique. I grew up in Oulunkylä where you had good tracks. I learned to swim a bit late because when I was little, I had over twenty ear infections and because of that I had tubes in my ears. On top of that, I'm allergic to chlorine so I didn't make any trips to the swimming hall. My parents didn't have the possibility to get us a place in the country either so I didn't really have opportunities to practice. Later on, I did go to the Kumpula outdoor swimming pool almost every day in the summer.
Water as an element is dear to me. Nowadays I'm tempted to go diving for example in the clear waters of Asia. Especially since I have always been morbidly interested in octopuses.
When I was six, I got this great hobby called asthma. My symptoms started around the time of the death of our dog Sami, saved three years earlier from a gutter. In addition to Sami, we had all sorts of animals at home: a parrot, a turtle, fish and god knows what.
***
When I was seven or eight, I started playing the bass, inspired by Gene Simmons and Steve Harris. My choice was also influenced by the fact that I was in a music class and bass players had the most opportunities for playing. I did also play the drums for a while when I was 11 and 12. As a drummer I'm really shitty, as you can tell from the Daniel Lioneye album. I even took a few lessons, but those ended when my teacher got caught for molesting underage girls. After that incident, drummers have always been something of a curse word for me.
I didn't pull any heavy pranks. Oulunkylä was such a small place that you always got caught right away. But I did go to construction sites as well as the machine room at the mall. We were once taken into a police car from there but not further. I was maybe eight.
I was never an avid reader, even though we did have a lot of books at home. I did read the Narnia books and Greenwitch. And
The Hobbit
. The Three Investigators books were good as well as Agatha Christie books, which I read later on. The first movies I really dug were
Pojat
[The Boys] and
Star Wars
. When those action figures hit the stores,
Star Wars
was shown non-stop at the… Sokos department store, I think. We were like a group of twenty boys who hung there watching the movie.
Pojat
, on the other hand, has that really heavy ending. Vesa-Matti Loiri runs after the train and yells "Mom, Mom, don't leave me." I had nightmares and made my own mother swear that she would never go away.
I must have been on fifth grade when we had a band called Elovena Cowboys. I made my first song for that band, it was a mood piece in the vein of (Iron Maiden's)
Rime of the Ancient Mariner
. For a band called Aurora, I made a Nirvana-inspired piece called
Sieluttomat
[The Soulless] back in 1991. That was my first so-called composition. The lyrics were written by someone else in the band. I had plenty of bands in those days: Donits-Osmo Experience, B.L.O.O.D. and others. I got interested in singing when I got into what Mike Patton, King Diamond and Ozzy Osbourne were doing.
I experimented with alcohol for the first time when I was on seventh or eighth grade. A pretty average experience. A bottle of red wine and a few beers. There I lay on a playground in Oulunkylä. We went to some HC gigs at Lepakko where I got to practice some more. Cheap white wine and Koskenkorva. I even threw up on an early crush while we were making out.
School went nicely even with everything else going on. I think my average grade fell below 8 only once. [In Finnish comprehensive schools, the grading scale is from 4 to 10. Report cards, which include the average grade, are handed out twice a year.] My favorite subject was math. I still find it really interesting, a form of art really. I didn't graduate high school, and I moved on my own when I was seventeen.
The first time when my own music really stirred up emotions was when I composed the theme for
When Love and Death Embrace
on Mige's brother's old organ. But that was later, only in 1996. In the meanwhile, I had also tried out to play bass in Jimsonweed. HIM already existed back then, but it was on a hiatus because of Mige's military service. HIM's – or actually His Infernal Majesty's – first gig was at Teatro on December 19, 1995 (which is Mige's birthday) opening for Kauko Röyhkä. We used to hang out a lot at Teatro because Mige's brother was one of the owners. Mige and Pätkä (HIM's first drummer Juhana Rantala) even worked there. There were these Suolirassi nights and all. Those were the days.
On this spring day in 1996, I was in the bathtub at home when the phone rang. A voice on the other end said: "This is Asko Kallonen from BMG." I thought it was a prank call but the guy convinced me. We had been sending our demos here and there but nobody had been interested. Asko was interested. And that's how it began. That summer we recorded our first EP (
666 Ways to Love: Prologue
) at the Munkkiniemi youth center. It was recorded by Hiili (Kai Hiilesmaa) because he had already been recording our demos.
I didn't necessarily want the role of the organizer but it kind of fell on me naturally. Linde has always been really quiet and Mige too psychedelic. Pätkä for his part had an aversion towards the record company stuff dating back to his time in Slumgudgeon. Our first big gig outside of Helsinki was at the Music & Media event in Tampere in the fall of 1997. We played at I-Klubi.
***
The first big thing that happened outside of Finland took place in early 2000 when we were suddenly number one in the German charts. An important factor in that stuff has of course been Seppo (Vesterinen, HIM's manager). I met him when our debut album was about to be released in Germany, Switzerland and Austria. Our booking agent Tiina Vuorinen had worked with Seppo already during the days of Hanoi Rocks, and we needed help with the foreign contracts.
HIM's biggest crisis was caused by
Deep Shadows and Brilliant Highlights
(2001). We almost met the fate of so many others. Meaning that when a record becomes a huge commercial success, you start making the next one with the wrong attitude. But writing a song is not like riding a bike. Through that album we learned all sorts of things. Also how to deal with harsh criticism.
When we were making
Love Metal
(2003), I got to know Stefan (Lindfors, designer). His name came up when we were planning the video – or film as Steffe always says – for
Funeral of Hearts
. And then we went to freeze our asses off in Lapland. The thing I love about Stefan is that you can ask him anything and he doesn't get mad. It's also great that we can dig each other's work without any kind of competitiveness. Fortunately creative madmen like him still exist.
I still have an excellent relationship with my mom and dad, as well as with my little brother. They don't try to give me advice, for which they deserve a thank you. Same thing at home: it would be useless for a lady to try to influence a band that has been together as long as we have. At the same time, I have to say that having a job that requires this much traveling, it's wonderful to have a place to come home to. And like light a fire in the fireplace together. A home is a home only when there's someone there. At times Jonna (Nygren, Ville's [then] fiancée) and I of course fight like cats and dogs, but I guess that's the way it always is with creative young people. This job has pretty much done away with the urge to travel. Nowadays, the place I prefer to travel to is home. It feels nice, even exotic, to just look around the shops for a nice bookshelf or a rug.
Now that things are starting to happen in the US, we've also been contacted by sponsors. Besides instrument sponsors, we don't have anyone's logo in our asses. Mige and Linde have a discount deal with Gibson. A company that big can't start giving away their instruments for free. I have also been playing Gibsons for a long time and collected them along the way. It would be wonderful to be able to design my own acoustic model for them.
Once we had a non-music-related sponsor: Jägermeister on a German tour in… 2003 or 2004. There was so much fuss about the company's visibility on stage and the whole shit left such a bad taste in our mouths that we decided it was the only time we would whore like that. We'll pay for the printing of our posters ourselves and pay for our own booze. There's nothing wrong with Jägermeister, but the ad agency for that project hadn't been working in music business. Oh yes, and a clothing company that sponsors Bam (Margera, professional skateboarder) gave us shoes this one time in the US.
There was a rumor circulating here in Finland once that we had a cigarette sponsor. In reality, someone we knew worked for BAT. He gave us a couple of cartons of expired Lucky Strikes. (laughs) That was it. Besides, we all smoke different brands, so we could never agree on something like that. I have bought every pack of cigarettes myself, meaning that the eventual lung cancer has been paid for by me! There were three reasons why I agreed to do that Coca-Cola can campaign. For once I had the time to get involved in a charity thing, Mige's only addiction is Coca-Cola and it was exciting to design a bathroom-sign-style heartagram couple [see picture below]. That particular company has never financially supported HIM.
In the past few years, gossip magazines have also gotten interested in what I do. I have a good relationship with them. I don't give interviews, but I also don't go ballistic over the things they write. Hey—the more gossip there is about an artist the better. I don't want to clip the wings of one single rumor.
A public image is always different from reality. Meeting people like Ozzy, Slash, Iggy Pop and others, I have noticed that the one raising hell on stage is an alter ego. Off stage these people are polite gentlemen. I have therefore come to the conclusion that if you want a long career in rock, you can't let the piss go to your head.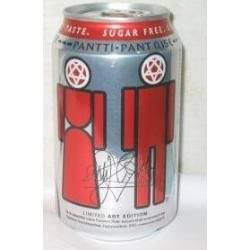 Timeline of Ville's life:
1976: I was born on November 22, 1976, in Helsinki.
1983: My first trauma. I thought my mother was the devil. She had gotten a perm because she wanted to renew herself after the birth of my little brother.
1985: A string broke from the guitar my cousin Mika had given me. I thought the whole thing was beyond repair, and I smashed it to a million pieces in the spirit of Paul Stanley.
1995: My first moment of "rock'n'roll debauchery". The cellist Max (Lilja) from Apocalyptica got anally abused by a smoking pipe cleaner at a joint gig.
1996: In honor of my 20th birthday, while hung over, I came up with both HIM's logo, the heartagram, and the term "love metal".
2000: Making of
Razorblade Romance
in Wales and London with John Fryer. The first time I worked with a foreign producer.
2000: In a state of intoxication, I tried to walk on the railing of a German balcony. Too much stress. Pretty good from a guy whose only phobia is the fear of heights. Linde saved me.
2004: Recording
Dark Light
in Los Angeles with Tim Palmer. It was great to sonically rape an old nunnery. In the presence of Playboy bunnies. The end of a chapter.
Influences:Tapio Rautavaara
Sininen Uni, based on a text by P. Mustapää and one of the rare songs that Rautavaara composed himself, is the most beautiful song in the world. All in all, Rautavaara is almost everything that a Finnish man can be. Athletic but at the same time artistic and sensitive. He also remained a man of the people, did a hell of a lot of work and died under suspicious circumstances.
Timo K. Mukka
Mukka has been terribly important to me, not only because of his art but also as a character. He represents the more extreme side of Finnish melancholy and the courage to reveal his deepest emotions – no matter how obscene or coarse they are. If a Dr. Frankenstein were to combine Rautavaara and Mukka, the result would pretty much be a perfect Finn: a muscular madman.
Kalervo Palsa
Kalervo Palsa is in many ways similar to Mukka. I didn't get to see that big exhibition of his here in Helsinki and I'm a little annoyed by that. I don't really have any connections to the art world, but I did put some hooks in the water in the hopes of being able to buy some of his original works. I have a hunch that they're not necessarily super-expensive.
Please don't copy-paste and post this translation anywhere without my permission. If you think others would like to read it, just post a link to this page. Thank you.
A while back I found this book in the library called
Current Music:

Suburban Tribe - Now and Ever After